Discover more from Box 148
I'm Josh Clayton. Most of the time, I get paid to write. This is all the dumb stuff I do for free.
The 12 Types of Great British Bakeoff Contestant
Me, you, Paul, Prue, and a dozen of these weirdos.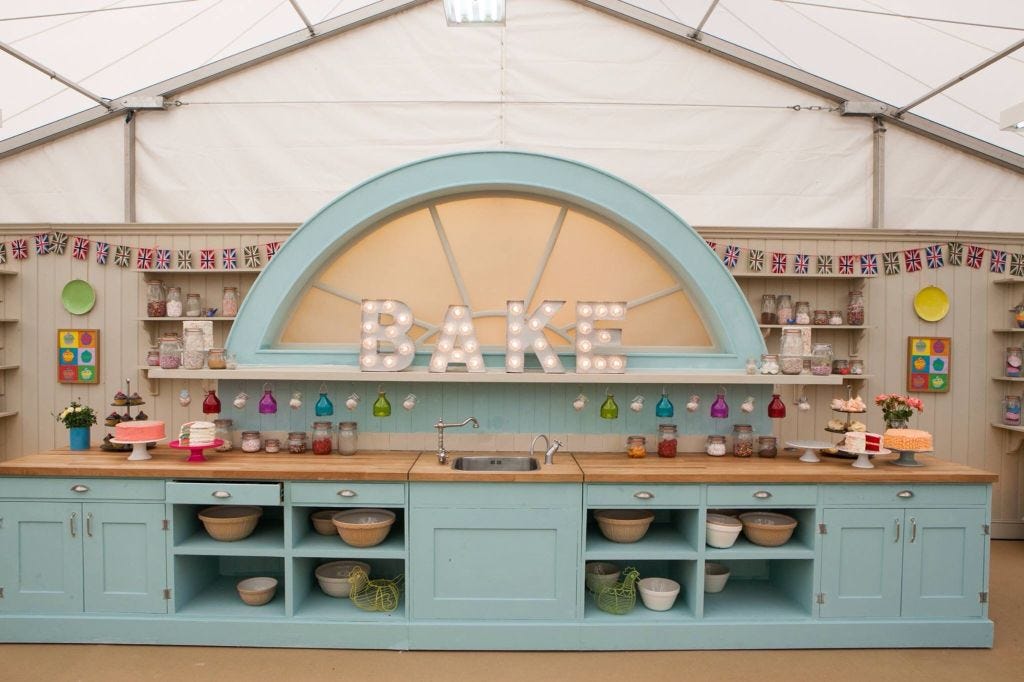 Blue Collar Tough Guy, Showing Off His Soft Side
Yeah, I drives a lorry up North. Chaps make fun of me seeings how I love to bake, but they stop laughing when I walk in the break room with treacle tarts. I mean what bloke doesn't love a treacle tart? Hard to laugh when you're gobblin' up a mouthful of treacle tart.
---
Small Town Elderly Woman
No one knows where she came from, and she speaks only in old-timey phrases that are impossible to understand. Where's Mary Berry? We need her to translate.
It's very possible that she's a ghost — haunting the tent, stirring caramel, and clattering her dentures in the night — but she makes wonderful biscuits.
---
Aggressively Welsh Person
Look at me, I'm from Wales! My name is Aeronwen or Rhydderch or something that sounds vaguely Irish but I promise you is not! PRYNHAWNN DA! That means "hello" in Welsh and it's a whole different language that we speak in Wales (which is a whole different place from everywhere else, which is Not Wales)! Did you know that there's a dragon on the Welsh flag? I will do at least seven dragon-themed bakes, in case you did not know (or forgot)!
---
Clearly Unprepared Man
He makes birthday cakes for his wife, so he thinks he can just show up and win. He's shattered in the first technical challenge when he has no goddamn idea what choux pastry is.
---
Girl with Terrible Anxiety That Paul Won't Leave Alone
Paul, please stop staring at her from the other end of the tent. The poor woman is already shaking like a Chihuahua because her custard is a little loose.
Ah god, I'm getting antsy just looking at her. She clearly cut those bangs herself, hoping it would transform her into a more confident person. You're doing great sweetie! You've already won Star Baker four times! You are good at this and we believe in you!
Paul, seriously, go away. Stop smirking.
---
High-Achieving Twink
He's cute, he's hairless, and he's already cured Malaria. Sure, his apricot couronne is delightful but did you know he's also a human rights lawyer at the Hague? The thing is, public service wasn't even his first career. He was the youngest-ever first chair cellist for the London Symphony Orchestra; but, after a while, being The Best just wasn't challenging anymore.
---
Impossibly Young Person
Margaret Thatcher? Who's that? No, can't say I've heard of her. Anyway, this chocolate roulade will make Prue shake with so much pleasure that her necklaces fall off.
Hm? John Lennon? That might sound familiar…. Is he on TikTok?
---
The Most Adorable Nerd You've Ever Seen
Their parents are both electrical engineers. They have two groups of friends: renaissance faire reenactors and elderly bridge players. Their glasses keep sliding down their nose.
Oh no, Paul has extended a handshake and they're scared to accept it. Praise and physical contact are both terrifying, and it's so endearing! You just want to hug them and whisper assurances that they're special, and loved, and talented.
---
Alcoholic
Their whole deal is that everything has booze in it. Even Prue rolls her eyes whenever they dump a half gallon of rum into a mixing bowl.

At some point this contestant will hold up a bottle of bourbon and prattle on about the crazy imported American spirit that will make their vanilla cake delicious. Every bite makes the judges wince in pain.

Paul will look them firmly in the eye and beg them to stop. They will not. High-proof liquor is the only ingredient they know.
---
Woman with a Singular Interest That Shows Up in Every Bake
Maybe it's bumblebees, maybe it's carousels, maybe it's gothic architecture — whatever it is, she has built her life around it and you better believe this visual motif is showing up at least once per episode.
---
A Literal Supermodel
Baking comes natural to me. It's as easy as being beautiful. I hear both of those things are difficult for people, but I don't understand why. I'm six feet tall, my eyes are blue, my lips are red, and my Gâteau Saint Honoré is structurally flawless.
---
Someone Whose Entire Backstory Is "Loves Their Parakeet Sven"
That's it, that's the whole bio. This is a person without context. At the finale, the camera pans over to reveal that this contestant has no family or friends in attendance — just the parakeet, twittering away in a golden cage.
They win the whole competition.
---
BAKER'S DOZEN BONUS:
The Clumsiest Human Being You've Ever Seen
Oh, god! I've somehow dropped seven bowls of eggs!